Our hours are 8:00am-5:00pm Monday to Saturday. We are open for online, phone and in-store shopping.
We provide delivery of flowers
Monday thru Saturday
What's in Store?
Come into our beautiful flower shop located in the impressive Atrium building in downtown Victoria.
Our shop offers a large selection of local, seasonal cut flowers, as well as a whole cooler devoted to tropical flowers. We also carry a fabulous selection of tropical plants, orchid plants, air plants, and a wonderful assortment of pottery and vases. We make most of our bouquets and arrangements custom to order, so come in and let one of our experienced designers create something special just for you.
You can also order online , contact us by email flowers@poppiesfloralart.com and Call us 250-383-0743 or 1-800-836-9666 and we'll arrange for quick delivery anywhere in Greater Victoria.
About Our Family Run Business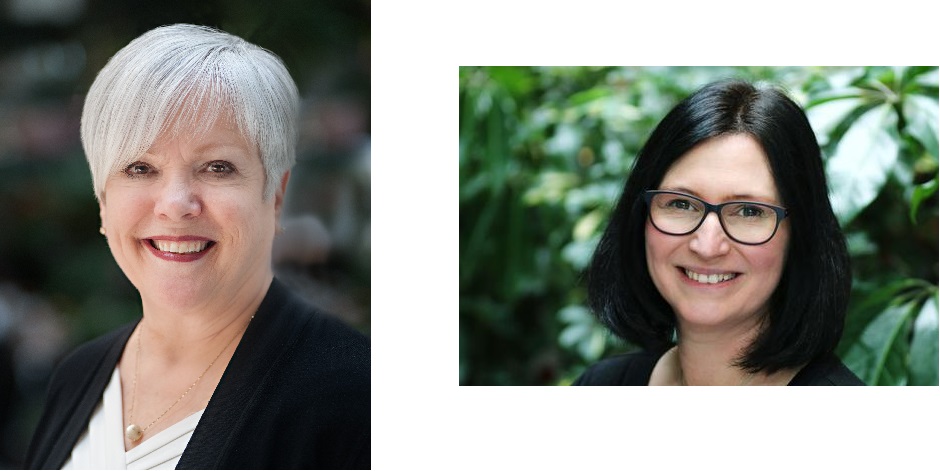 The owners: mother-daughter team of Mary-Jane Posno and Andrea Posno-Walker.
Mary-Jane has more than thirty-five years in the flower industry, and Andrea is a third generation florist with over 30 years experience. Together they bring over 60 years of combined experience in the floral business!
Andrea and Mary-Jane both worked in a family flower business in London, Ontario until moving to Victoria in 2006 and opening their own store. They purchased The Island Florist which was established in Victoria in 1957, owned and operated by Norma Fitzsimmons until the late 70's. It changed hands a few times after that, but remained a fixture on the 700 block of Yates St. for over 50 years. Norma was a good friend of the ladies at Poppies and remained in regular contact with them up until she passed away in July of 2020 at the age of 97! She is remembered for her favourite saying: "Never underestimate the power of a flower. "
Mary-Jane and Andrea changed the name to Poppies, The Island Florist. Then in 2011, the building that was home to the flower shop was being torn down to make way for a modern high-rise. Poppies had to move, and the new and architecturally stunning Atrium building on the corner, just half a block up, became their new home. Again, to suit their new surroundings, and the direction that they wanted to take their design and their branding, the shop became Poppies Floral Art.
Poppies is now well known for our artistic floral design. We are honoured to have been awarded "Best in the City" awards multiple times!
Our very talented and creative staff:

Jillian Player - designer
Jennifer - designer

Clair Choi - designer

Teresa Zwicky- designer
Sharron Forrester - designer
Megan Wolfe - designer
Harmony Mooney - designer
Jacob Walker - maintenance, receiving/ inventory management
Our Community
Our advertising strategy has always been from a win win perspective. We do this by supporting local charity initiatives by providing flowers for fundraising events including flowers for decor, door prizes, silent auction and acknowledgment gifts.
Victoria Arts Council
Victoria Hospitality Awards
Fight for the Cause
Salvation Army
United Way
Victoria Leadership Awards
University 101
Cool-Aid Society
Ballet Victoria
Dance Victoria
Colour Your Palate
Iyengar Yoga
BC Children's Hospital (Scotia Bank)
Community Services Networking Fair
Kidney Foundation
Victoria Conservatory of Music
Canadian Diabetes Association
Arts Reach
The Land Trust Alliance of BC
Victoria Hospitals Foundation
Bike to Work Week and more

Striving to be better....
Through the facilities provided in the Atrium, we are able to compost all of our organic waste, recycle soft and hard plastics as well as cellophane and styrofoam.
We source local BC growers wherever possible, and support our local island wholesalers.
We buy reusable vases and containers that recipients will want to keep. NO plastic dishes whenever possible.
We offer a "vase for credit" option, so that if you don't want to keep your vase or ceramic container, you can return it for a credit towards your next purchase.
We use recycled/ recyclable paper to wrap our bouquets. We have reduced our cellophane use by 90%.
We happily take back gerbera straws, water picks and cardettes to wash and reuse.